This is just a reminder that the Plano School District has a Virtual Backpack page that is loaded with information about school and community events. Click here:
https://www.plano88.org/page/virtual-backpack
For example, there is information about a FREE clothing giveaway this Saturday at Cornerstone Church; Trunk or Treat at the Methodist Church on Sunday; and next Thursday, October 28th is the Plano Chamber's Treats on the Street event! The Plano Library, 4-H and local sports organization information is also just a click away when you access the D88 Virtual Backpack. Open up this backpack today!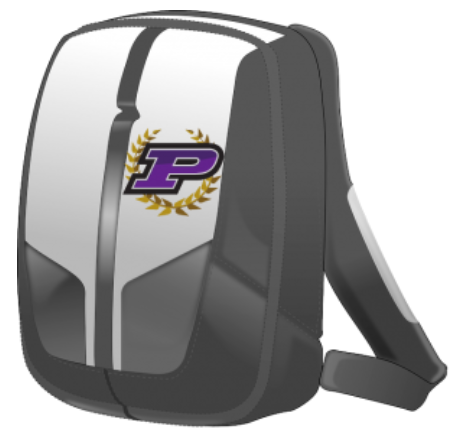 FREE Drive-Thru Satellite Food Pantry - Friday, October 15th from 6-7:30 PM at the First Lutheran Church of Plano located at 200 N. Center Street in Plano. Open to everyone in need! Note: This is the same food pantry that is normally held on the 3rd Friday of each month and was located at PH Miller/Bus Barn, but the location has been changed effective October 15, 2021. Click here for a copy of the October 15th flier:
https://5il.co/10g16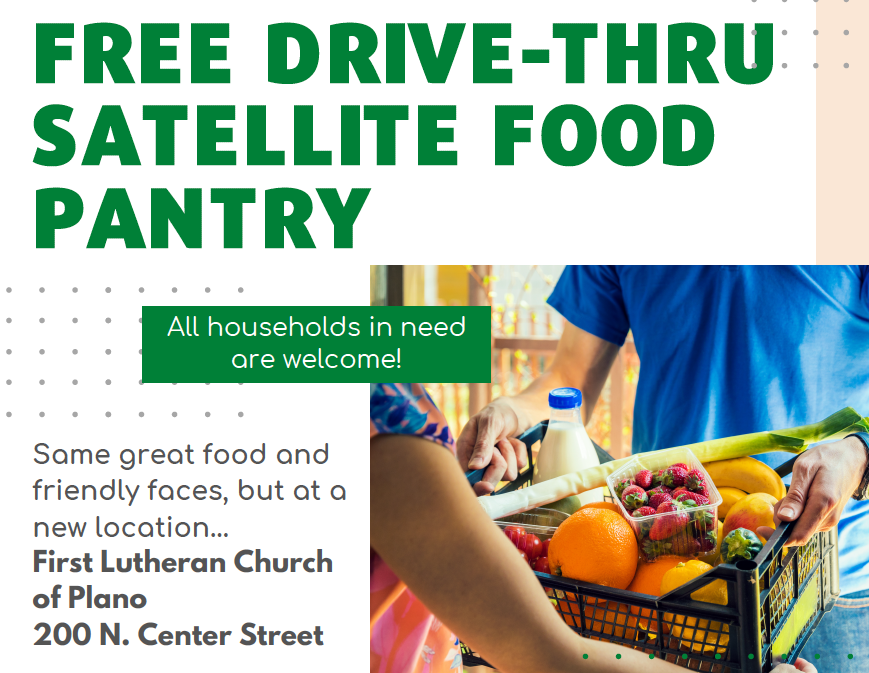 Reminder: No school tomorrow, Monday, October 11th. Students and staff enjoy the day off!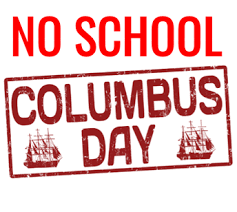 Tickets are on sale for the PHS fall play performance of A Midsummer Night's Dream. Performance dates are times are October 8 & 9 at 6:30 PM & October 10 at 2pm. Tickets are only $5! You can preorder here:
https://www.showtix4u.com/event-details/56881

Due to projected rain on Saturday, Plano High School has changed the date of the Homecoming Fall Ball to Friday night. Check this flier for more info. Happy Homecoming!!
Come join us at Open House! Meet your child's teacher! See your child's classroom! Walk around the building and see where your child spends the day. Our specials teachers will also be here, for you to meet. We look forward to meeting all of our families, so please join us on September 23rd, from 5:30-7:00pm. ¡Vengan a acompañarnos en nuestra Open House! ¡Conozcan al maestro de su hijo y vean su salón! Caminen alrededor del edificio y vean dónde pasa el día su hijo. Nuestras maestras de Especiales también estarán presente para que las conozcan. Esperamos conocer a todas nuestras familias, así que únanse a nosotros el 23 de septiembre, de 5:30-7:00 pm.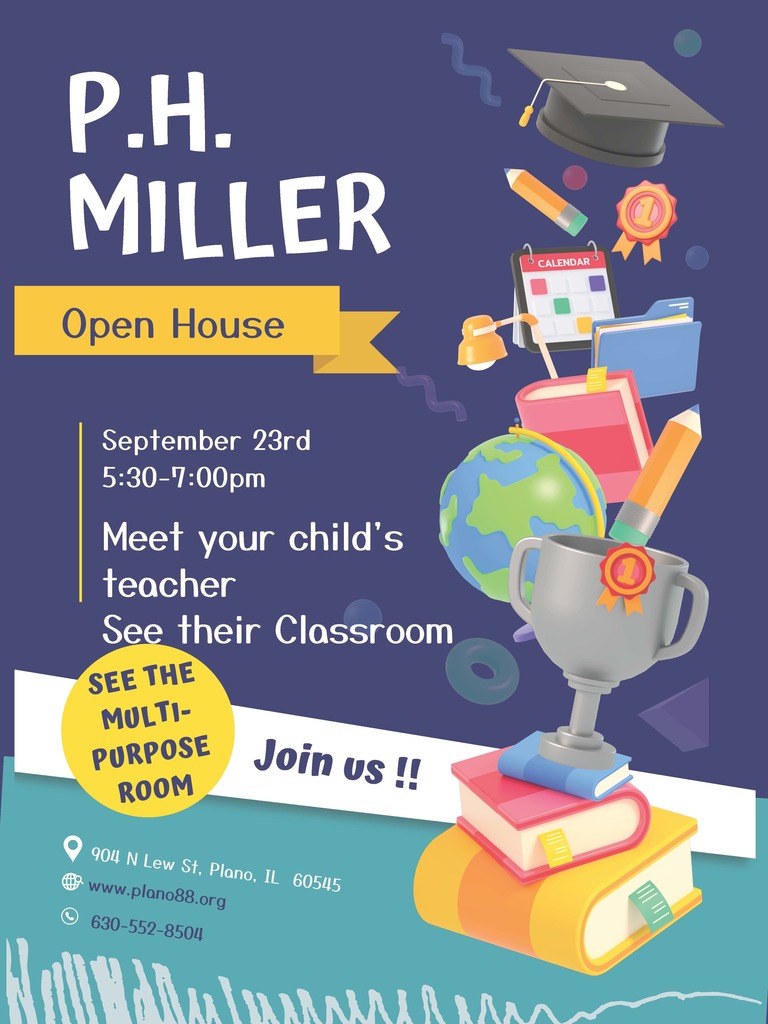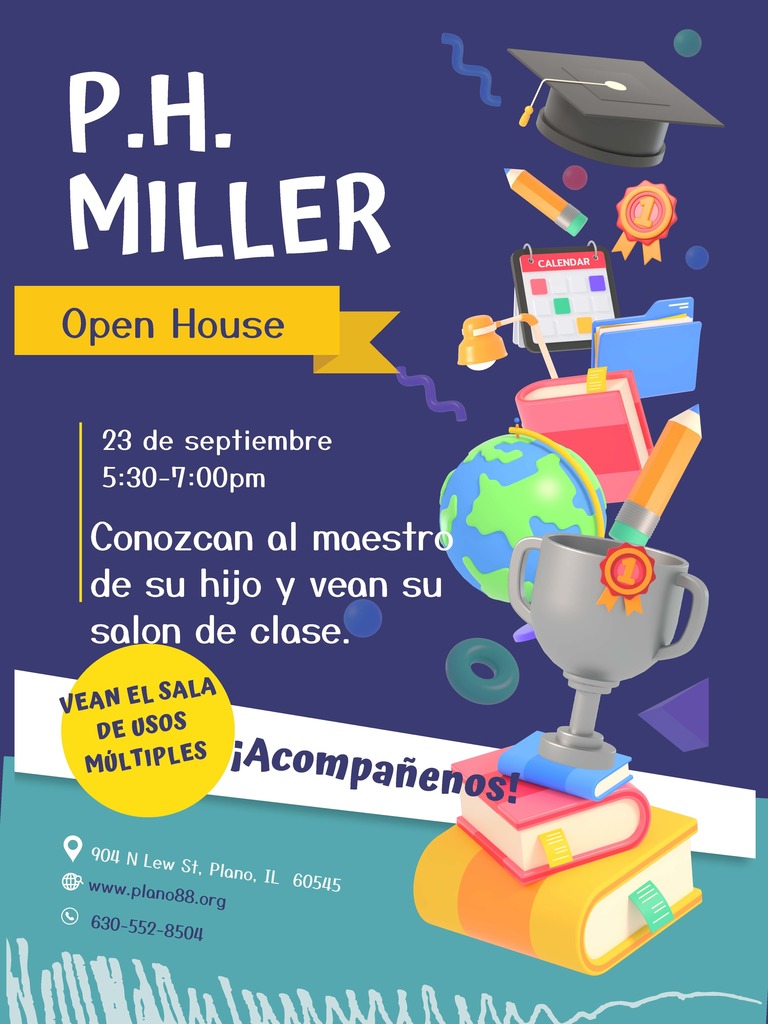 Who's ready for a Spirit Week? All of us here at P.H. Miller are ready. Share in the spirit for Homecoming, by participating in the fun of dressing with a theme for the week September 27th through October 1st. Which day will be your favorite?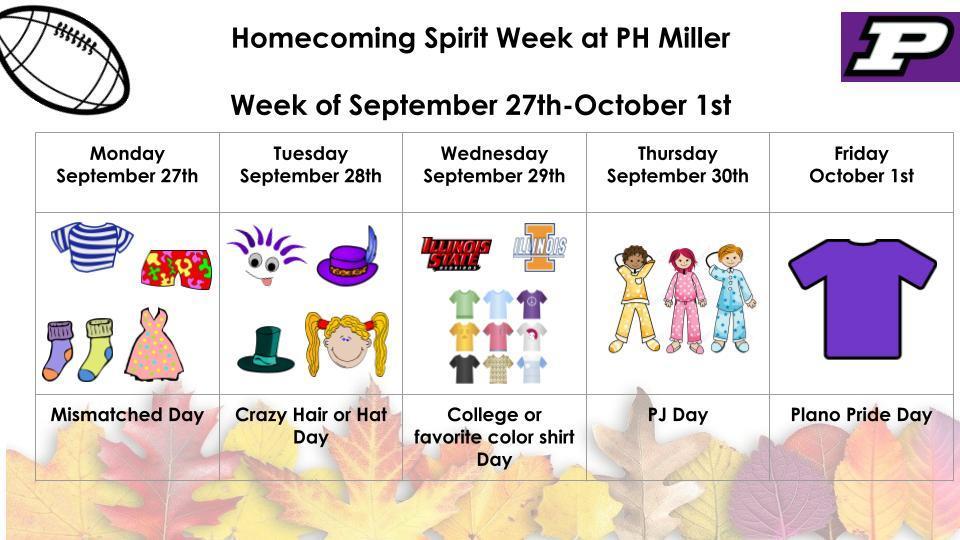 D88 has an early dismissal on Friday, Sept. 17th. 10:40 AM at PH, Middle & High Schools. 11:40 AM at Centennial & Emily Johns. Enjoy the weather!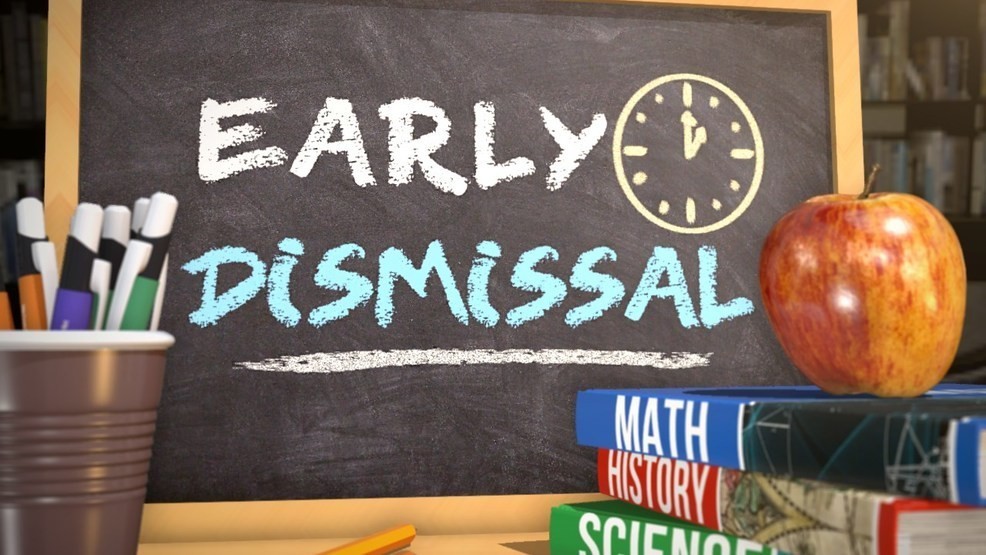 There will be NO Kendall County Satellite Food Pantry this Friday, September 17th (NOT at PH Miller School or the Plano Bus Barn). Please watch your Email for a new location that will begin on October 15th. Please call the Plano School District Administration Office at 630/552-8978 with any questions. Sorry for the inconvenience, but we look forward to seeing all those in need on October 15th. Be well!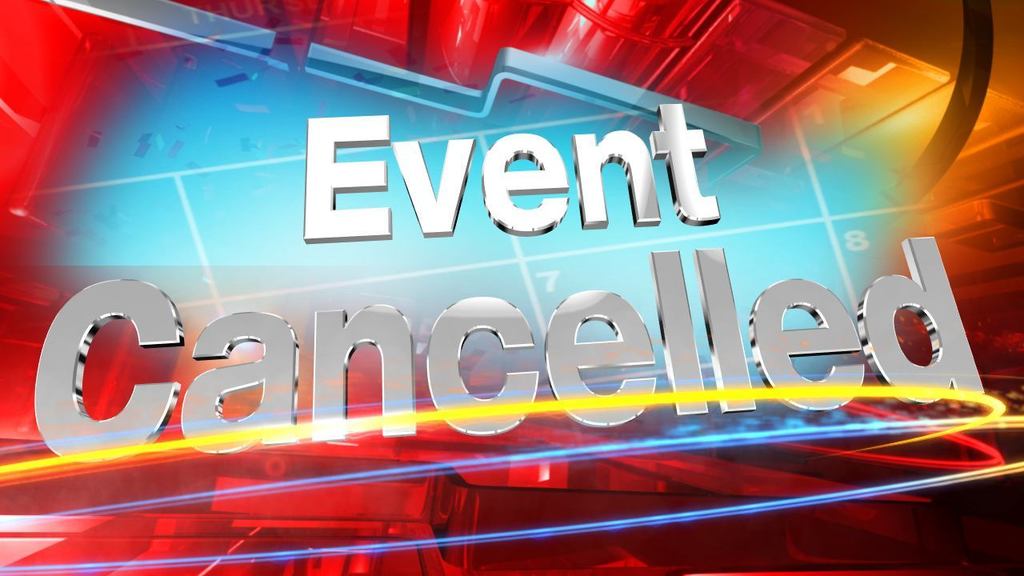 Fall into Homecoming Fun! Don't miss PHS Spirit Week, games or the Fall Ball the week of September 27-October 2nd!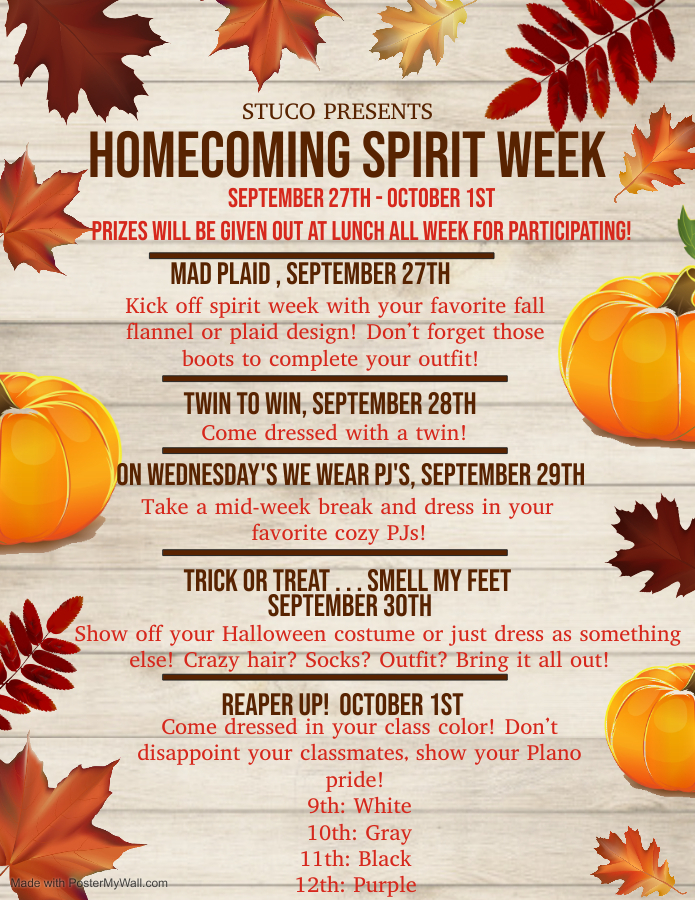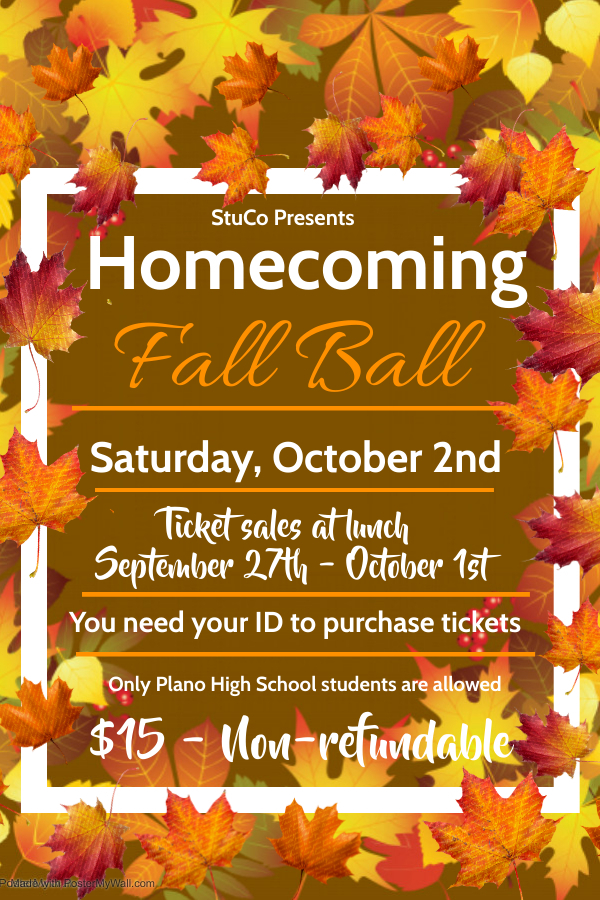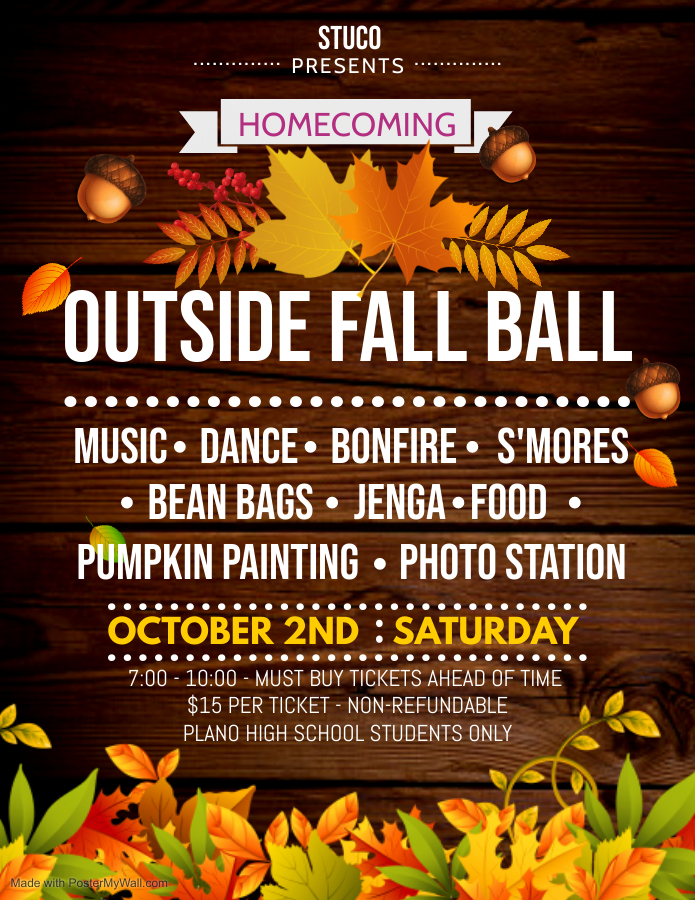 D88 has immediate opening for food service employees and bus drivers. Will train enthusiastic, serious applicants and, after successful background check, you can start right away! Work only when kids are in school! Call 630/552-8978 for more info or apply via
www.plano88.org

Plano School District will have its first early dismissal of the 2021-22 school year on September 17th. Early Dismissal Times are as follows: PH Miller School (PK-1) – 10:40 AM; Centennial School (2-3) – 11:40 AM; Emily G Johns School (4-6) – 11:40 AM; Plano Middle School (7-8) – 10:40 AM; & Plano High School (9-12) – 10:40 AM Click on this link:
https://5il.co/ybnq
to access the entire school calendar, which includes other early dismissal dates and school holidays.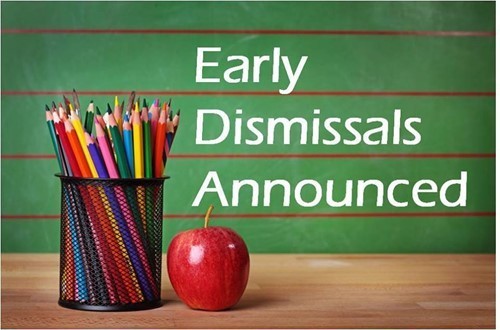 Plano 88 is now hiring for school bus drivers. Will train qualified applicants and drivers may qualify for benefits. Perfect for parents or grandparents who wish to work when students are in session. Please call Transportation Coordinator Gretchen Konczyk at 630/552-8980.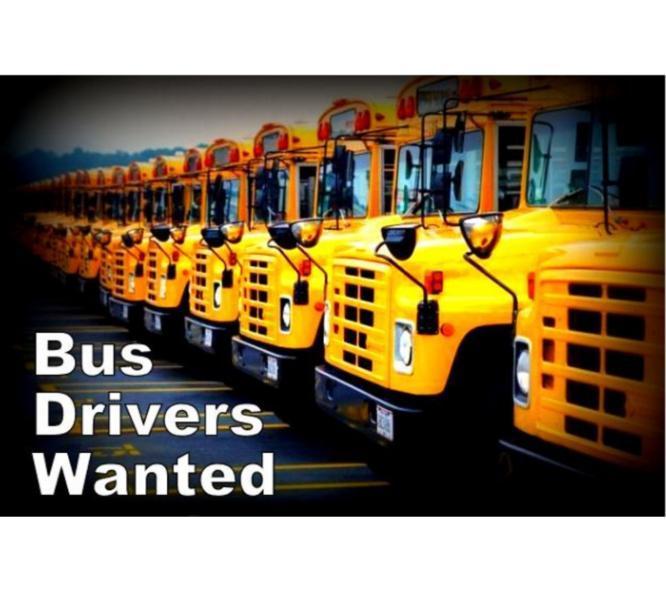 Plano High School is excited to announce that the Homecoming Parade is tentatively scheduled for October 2nd at 10 AM (check in at 9 AM). Student Council representatives are in the process of choosing the theme for the event. The entire community of Plano is invited to participate in the Homecoming Parade. Please contact Liese Lebel at
llebel@plano88.org
or Danielle Litko at
dlitko@plano88.org
for more information. Thanks!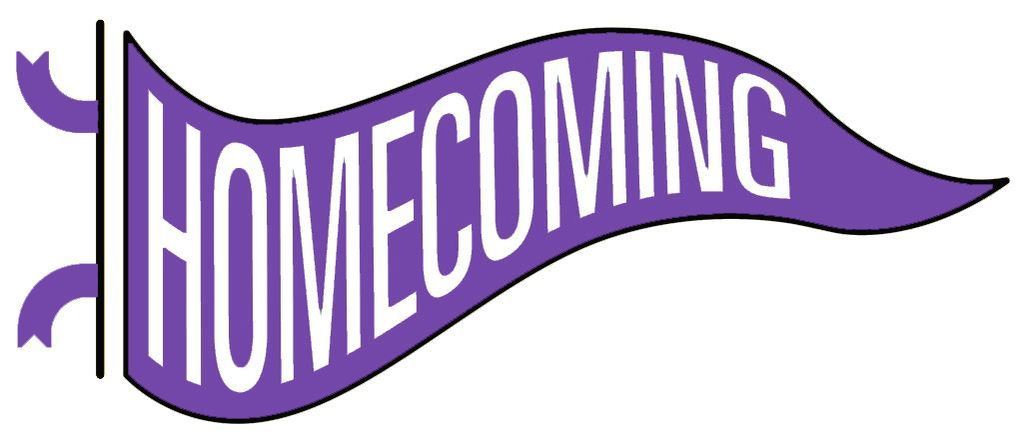 Free Meals for ALL Students, All School Year ALL students are eligible for FREE meals during the 2021-22 school year. The U.S. Department of Agriculture will continue reimbursing schools for free meals to all students regardless of their income through the 2021-22 school year. There is no need to complete a Free/Reduced Lunch Application in order to receive free or reduced meals. Ala carte items will be available for purchase at the middle and high schools. A student must accept a fully reimbursable meal (contains all components) in order for it to be marked free. All students are eligible to purchase milk to accompany a sack breakfast or lunch from home. A fully reimbursable meal includes a carton of milk. A student would need to order a fully reimbursable meal in order to receive free milk. Student Fee Waivers Families who are not directly certified from the State of Illinois (SNAP, Medicaid or Foster-eligible), will be contacted by the school district and provided the link to apply for registration fee waivers. Based on the income information provided on the application, students fees may be waived (free), reduced (50%) or full-pay. Remember, families do not need to complete the Free-Reduced meal application in order to receive free breakfast and lunch at school. ALL students are eligible for FREE meals during the 2021-22 school year. Menus are posted on the district website.

Dear Parents/Guardians: Please click this link:
https://www.smore.com/b17da
to read an important and informative Back to School Newsletter. Best wishes for a great school year!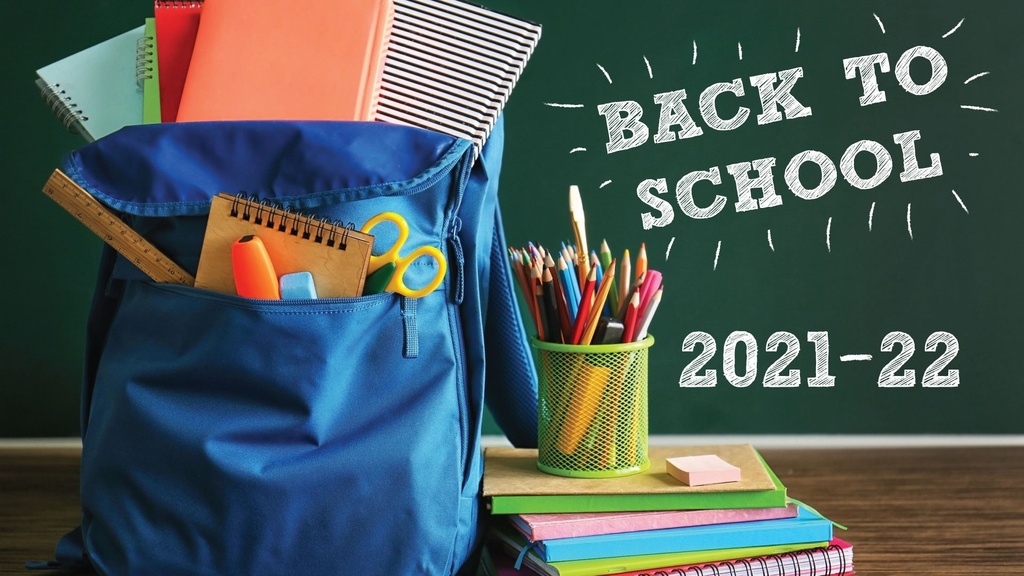 Plano 88 is now hiring for food service employees...head cook, full-time, part-time and subs. Will train qualified applicants and successful candidates may qualify for benefits. Perfect for parents or grandparents who wish to work when students are in session. Please apply via the district website at
www.plano88.org
or call 630/552-8978 for more info.
PH Miller Supply Drop Off for K-1 will take place on August 17 from 1-6 PM. Classrooms will not be accessible on this date. Please park in the large lot on Lew Street and enter Door 8. Place your child's supplies on the table of his/her teacher. Don't forget to bring gym shoes, extra change of clothes, art shirt, and other school supplies. Questions? Call (630) 552-8504 La entrega de suministros de PH Miller para K-1 se llevará a cabo el 17 de agosto de 1 a 6 pm. Los salones de clases no serán accesibles en esta fecha. Estacione en el estacionamiento grande de Lew Street y entre por la puerta 8. Coloque los útiles de su hijo sobre la mesa de su maestro. No olvide traer zapatos de gimnasia, muda extra de ropa, camisa de arte y otros útiles escolares. ¿Preguntas? Llame al (630) 552-8504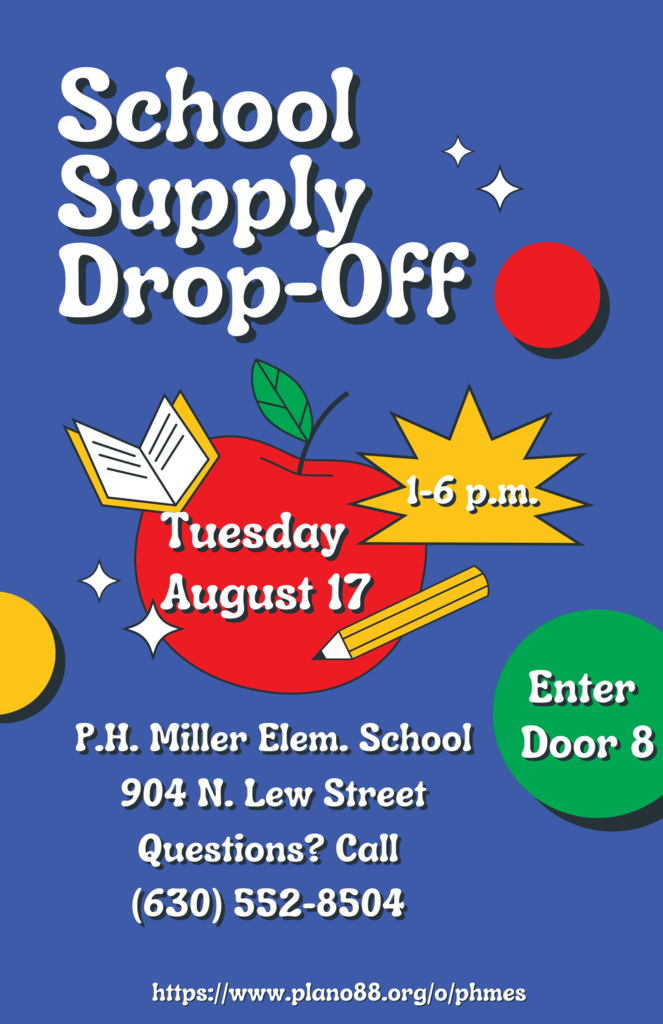 The Plano School District website has a VIRTUAL BACKPACK with information and fliers about events in and around the Plano community and schools. Click on this link:
https://www.plano88.org/page/virtual-backpack
to check out newly added stuff, including time-sensitive information about Youth Tackle Football spots that are open until midnight on July 30th; the Back to School Bash and Color Run; some of our school supply drop-off dates, and much more. Info is constantly updated and community partners are welcome to submit items for consideration.