The Plano School District recently received generous donations of reusable water bottles for students because drinking fountains have all been shut down due to COVID-19. "The pandemic has already presented schools, teachers and students with many concerns and challenges this school year," said Superintendent Tony Baker. "To have two of our community partners donate reusable water bottles for our students to use at our bottle filling stations is so appreciated and one less expense that the district needs to incur," he added.
The water bottles will be provided to students who do not have access to a reusable bottle or if they forget their bottles at home. According to the CDC, access to clean drinking water helps students' overall water consumption and maintains hydration which can improve cognitive function in children and adolescents.
"This is a time when we, as a community, must take care of one another," said Joel Recchia of Heartland Bank. Autumn Stark, representing First National Bank of Omaha (FNBO) and First Insurance Group (FIG), added, "While times remain uncertain, we know that together we're strong; together we can overcome new challenges to ensure the ongoing health and success of Plano students."
Plano Schools are grateful for partners like Heartland Bank, FNBO and First Insurance Group and appreciates their support of its students and the Plano community.

Photo Caption:
Autumn Stark (left) presents FNBO and First Insurance Group reusable water bottles to P.H. Miller Principal Laurel Mateyka.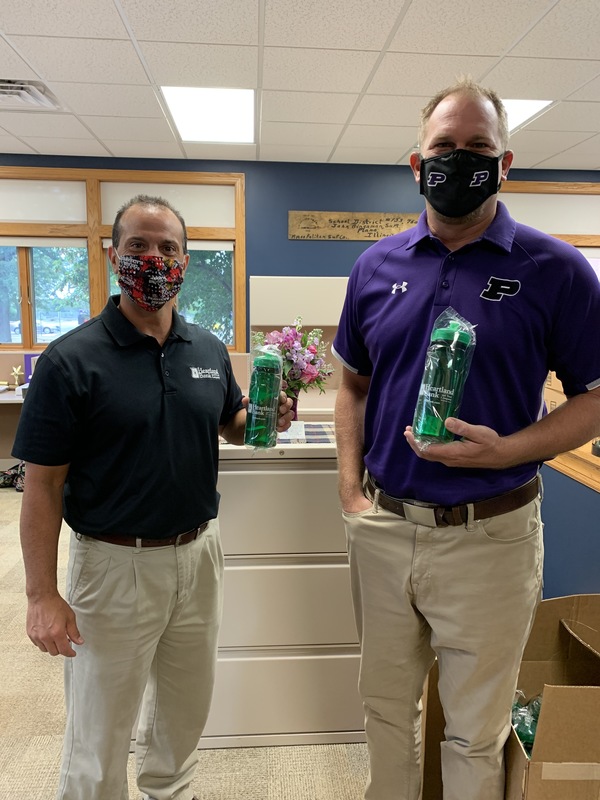 Plano School District Superintendent Tony Baker (right) receives a supply of water bottles from Joel Recchia from Heartland Bank & Trust Company.