Plano 88 is proud to announce that the following individuals have been honored by the IL State Board of Education in the 2023 "Those Who Excel" program: Brennan Denny, Asst Principal at Plano High School in the Administrator category; Emily Holmstrom, 6th grade Math Teacher at Emily G Johns, Classroom Teacher; Delaney Rogers, 8th grade English Teacher at Plano Middle School and Jimena Moreno, 5th grade Dual Language Teacher at Emily Johns for Early Career Educators; Anne Hamblin, Secretary at Plano High School for Educational Service Personnel; Sarah Nourzad, Social Worker at Centennial School for Student Support Personnel; PASEC Transition Team at Plano High School for Team Award; and Mark Parris, photographer for D88 athletics and extra-curriculars for Community Volunteer Award.
This is the sixth year in a row that the Plano School District has received awards in all seven categories. Plano School District is proud to congratulate the 2022-23 ISBE award recipients and commends the entire D88 team for their extraordinary contributions to education. All awardees will be invited to attend the annual award banquet where they will be presented with their award along with other stellar educators and support team members from across the State of Illinois.
A more detailed story about Plano 88's achievements is available on the Record Newspapers-Shaw Local Facebook page.
Brennan Denny
Emily Holmstrom

Delaney Rogers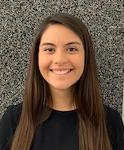 Jimena Moreno

Anne Hamblin

Sarah Nourzad
Mark Parris