PARENT ACCOUNT NOTIFICATION SETTINGS
This article details personal notifications for Parent accounts.
Notes:
Email and text message notifications differ from the Notifications menu (bell icon) located at the top of Schoology. The notifications listed under the bell icon are not customizable. They provide a running list of academic actions relating to your account only. If you'd like to receive the same notifications that your child receives, we recommend adding your email address or phone number to your child's Notifications area.

For information regarding notifications about your child's Schoology activity, please visit Help article: Parent Email Digests and Overdue Notifications.

For information on mobile notifications, see these Help articles:
Schoology sends you email notifications for Social, Academic, Group, and School activity that occurs in your account. These notifications pertain to the school, courses, and groups in which you are enrolled (not courses or groups in which your child is enrolled).
To access your personal account notifications, click the arrow in the upper right corner of Schoology, and select Settings. Then click the Notifications tab.
You can select which notifications you would like to receive from courses and groups in which you're enrolled.
To turn off all email notifications for your account, click Turn Off All Notifications.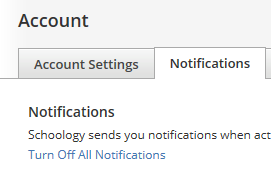 To customize your notifications, follow these directions:

Click the arrow next to your name on the top right side of Schoology.

Select Settings from the drop-down menu.

Click the Notifications tab.

Select the button next to the notifications you want to change.

Choose On (receive from all sources), Off (the default setting), or Custom (pick and choose the sources).

Click Save Changes at the bottom.
TEXT MESSAGE NOTIFICATIONS
Text message notifications are also available for certain actions.
Note: If you live outside of the U.S. or Canada, text message notifications are not yet supported at this time.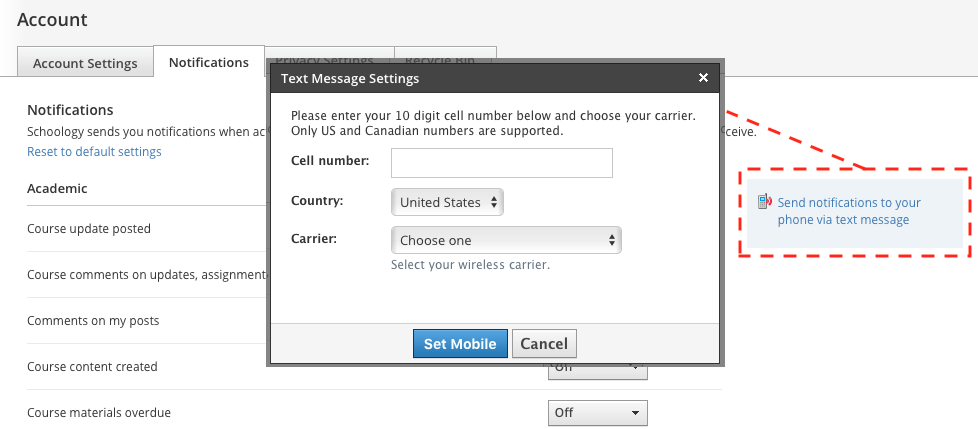 You can link your mobile phone to your Schoology account by following these directions:
Click the arrow in the upper right corner of Schoology.

Select Settings.

Click the Notifications tab.

Click Send notifications to your phone via text message box to the right.

Enter your Cell Phone Number (your number remains hidden from other Schoology users).

Choose your Country.

Select your wireless Carrier.

Click Set Mobile to complete.
To edit or remove your cell number:
Click Edit next to Mobile Phone to the right of Notifications: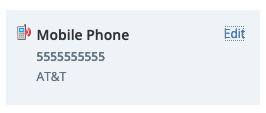 To update your number, enter the correct cell number or click Remove if you wish to remove your mobile phone entirely.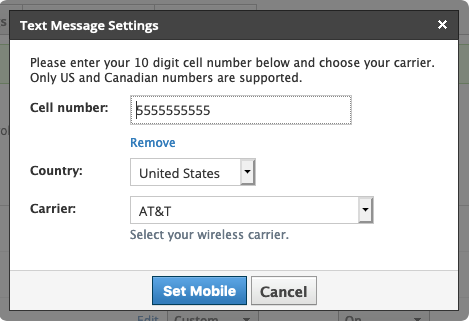 Click Set Mobile to complete.
I CAN'T FIND THESE NOTIFICATION SETTINGS
If your Notifications area does not display these options, it's possible that you may be accessing Notifications while viewing your Child Activity view. To view these notification options, please make sure you are clicking Settings from your personal account.