In order to minimize exposure to COVID-19, students will not be allowed to bring Valentines to school this year. Instead, the students at P.H. Miller Elementary School are celebrating Valentines Day by giving back to senior citizens and veterans by creating handmade cards and digital greetings.
The students have been working hard to create hand-made cards for senior citizens and veterans in the area. IL State Senator 38th District Sue Rezin invited our students to write cards to seniors living in assisted living and long-term care facilities in the 38th Senate District which includes Kendall County. Additionally, US Representative 14th District Lauren Underwood invited our students to send a digital Valentine greeting to veterans in our area.
Our hope is to bring joy to our community's seniors and veterans this Valentine's Day and to teach our students that by giving joy to others we receive joy in return. We hope this lesson and experience lasts longer and is felt more deeply than the short-lived fun of receiving a few tiny cards. If you would like to see the card that our students made, see below. Watch our school website for photos of the cards and kiddos. If you have questions, email Mrs. Philips at stepheniephillips@plano88.org.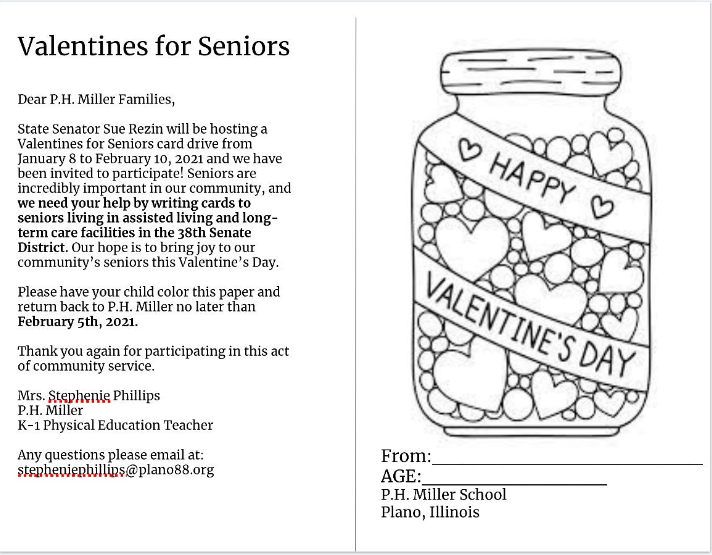 Para minimizar la exposición a COVID-19, los estudiantes no podrán traer Valentines a la escuela este año. En cambio, los estudiantes de P.H. La Escuela Primaria Miller está celebrando el Día de San Valentín retribuyendo a las personas mayores y los veteranos mediante la creación de tarjetas hechas a mano y saludos digitales.
Los estudiantes han estado trabajando arduamente para crear tarjetas hechas a mano para personas mayores y veteranos en el área. La senadora estatal de IL 38th District, Sue Rezin, invitó a nuestros estudiantes a escribir tarjetas a las personas mayores que viven en centros de vida asistida y cuidados a largo plazo en el 38th Senate District, que incluye el condado de Kendall. Además, la Representante del Distrito 14 de los Estados Unidos, Lauren Underwood, invitó a nuestros estudiantes a enviar un saludo digital de San Valentín a los veteranos de nuestra área.
Nuestra esperanza es traer alegría a las personas mayores y veteranos de nuestra comunidad este Día de San Valentín y enseñar a nuestros estudiantes que al dar alegría a los demás, recibimos alegría a cambio. Esperamos que esta lección y experiencia dure más y se sienta más profundamente que la breve diversión de recibir algunas tarjetas pequeñas. Mire nuestro sitio web de la escuela para ver fotos de las tarjetas y los niños. Si tiene preguntas, envíe un correo electrónico a la Sra. Philips a stepheniephillips@plano88.org.